This configuration interface allows you to set up the document types for guest registration and billing, the for guest registration and invoicing, accommodation contract information and other settings required for reservation and other settings required for reservation management and check-in registration.
Lobby path: Menu > Settings > Check in and reservations
Types of documents
We can start by reviewing the types of documents required for the registration of nationals, foreigners and/or companies. If you wish to create a new one you can click on "create document".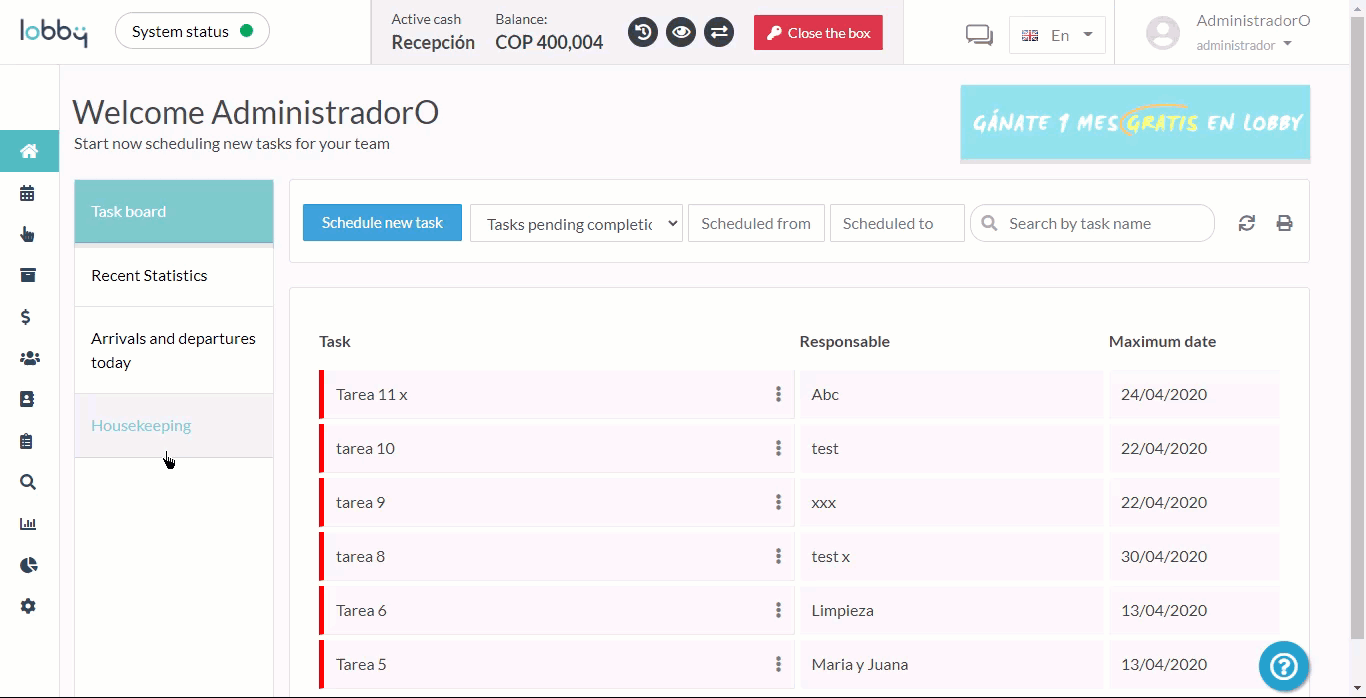 Check In Printout
Now configure the lodging contract or check in document using the configuration block called check in printout. If your business had another contract format, you can assign the consecutive number to continue generating the document and keep the order.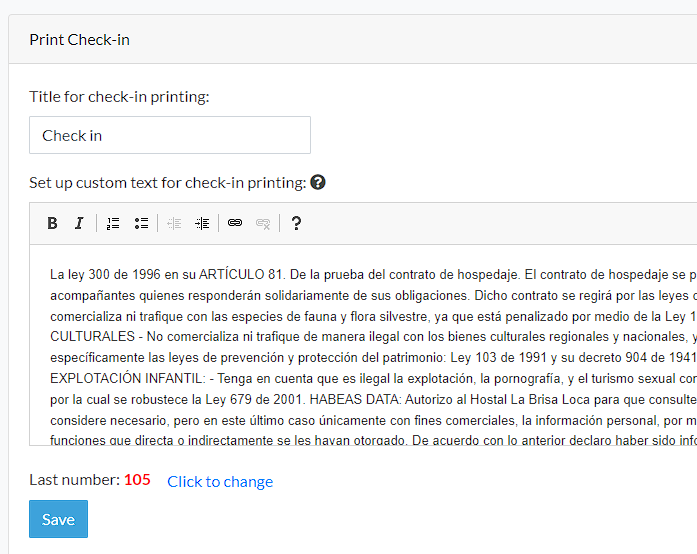 This contract is generated in the reservation using the "print check in" button and you can send it by PDF to the guest's email.
Guest registration form
You can also control the mandatory data requested when creating a reservation or checking in. In the Guest Registration Form you will find two columns. One is mandatory when registering a provisional reservation and the other is mandatory when registering the guest at the front desk.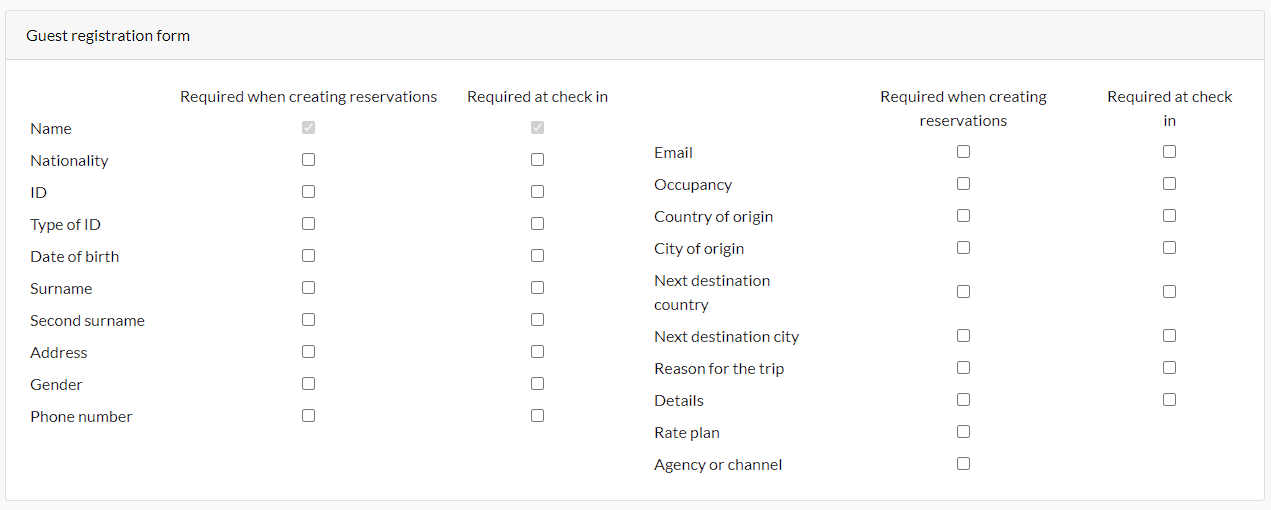 For effective use, you can request basic fields to maintain contact with your guest for example, such as phone number and email while checking in and request more detailed fields at check in. Remember that email is key to send customer information, promotions and invoices.
Check in questionnaire
The check in questionnaire is the Lobbypms Online Check In feature. Here you configure the biosecurity questions requested by the health authorities and these are stored in the customer's backup while they check in without contacting the front desk.

Numbering for payment vouchers in reservations
This block allows you to create different numbering, for example, for credit vouchers, income, etc, from the reservations. To make this configuration you must click on "new numbering" and then fill in the data and the format of the voucher.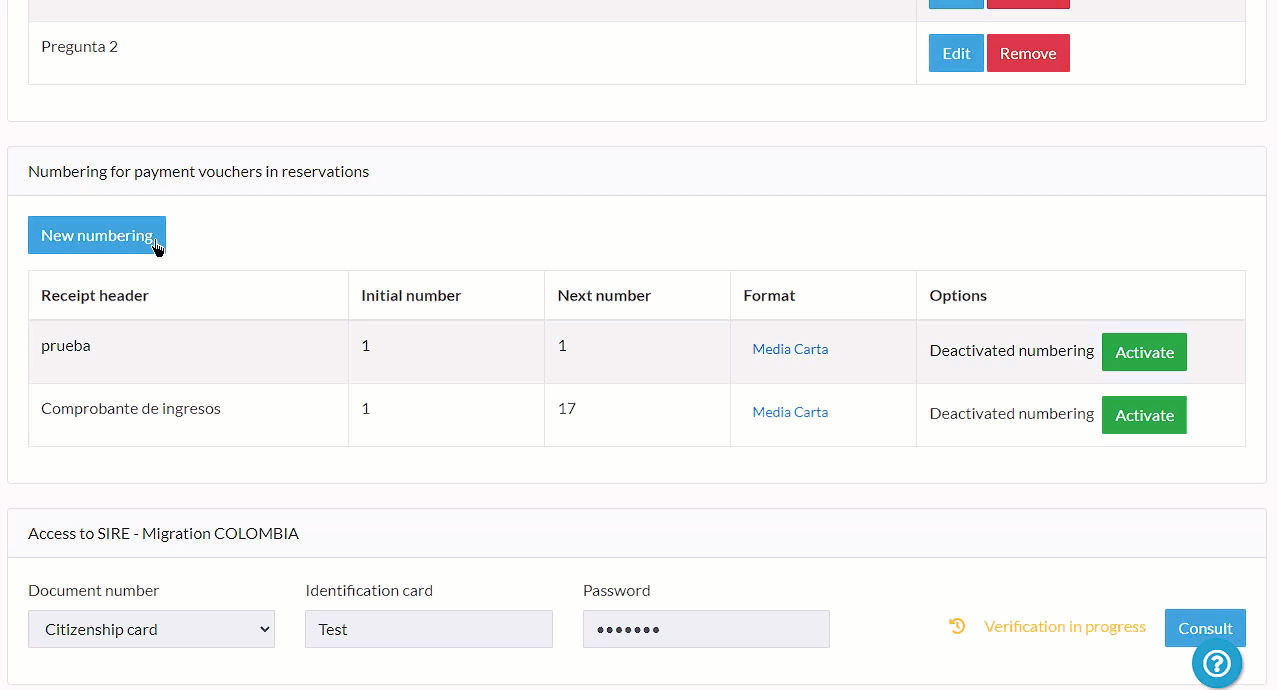 Access to SIRE - Migración COLOMBIA
If your business is in Colombia, the automatic report for Migration Colombia allows you to send the registration of entries and exits of foreigners directly to SIRE. The configuration is very simple considering that in previous steps we configured the code of the establishment before this entity. Don't have the SIRE Access option in your Lobby account? we invite you to upgrade your current plan to a Premium account where you will have this and more options available.

Other options
Other options allow you to limit the reception functions where you can force the system not to generate check out without invoice, view the calendar for several days in the same block, keep the rates when guests change rooms and increase the rates for children.